About Nature and Wildlife Photographer, Debby Stubbs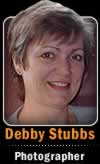 I am a native of Brunswick, Maine and became interested in photography as a hobby back in 1973. Starting with nature, scenic and family pictures, I found a real passion in birding and bird photography. Years and quite a few cameras later, I started my photography business in 2005 to keep myself busy after my husband passed away. Most of my work is focused on Maine wildlife, an endless variety of beautiful Maine scenery, flowers, and specialize in birds. Sharing the story of my experiences and view of our natural world with others is what I really enjoy. In all, I offer over 10,000 photos to choose from, a portion of which are featured here.
I am a member of the local Merry-Meeting Art Assn. and exhibit and sell my work at various art shows here in Maine.
Past Acknowledgments
My first published photo of a flying squirrel was the inside back cover in the Jan.-Feb. 2006 issue of 'Up North, The Moosehead Magazine'. They used many more of my bird and wildlife photos over the years as well as 3 front page cover photos and a feature story and center spread of my photos. Some of my bird images have been printed in Birds & Bloom magazine. In addition, my Sparring Tri-Colored Heron and Snowy Egret photo was third place winner of the Pasco County Audubon 2010 Natural Florida Photo Contest in the Native Florida Wading Birds category. Over the years The Times Record Newspaper has printed images of my flowers and wildlife. Feature stories of my work have been written in The Coastal Journal, People Plus News, Northern Journeys Mid-coast Maine Edition winter of 2017-18 as well as art gallery exhibits in Millinocket, Port Clyde, Topsham and Brunswick. Mid-coast Hospital in Brunswick purchased a large exhibit for their breast oncology department.
For the past few years my focus has been on selling my work at art shows and local shops and art galleries and perfecting my technique as well as adding to my portfolio by visiting places across the United States so I have added galleries of Texas and Victoria, BC [as well as Florida and Alaska] and the U.S. Pacific Northwest.